We've already shown you the waiting room, and we're excited today to take you on a tour of the "back of office" at Prism Dermatology: the patient rooms, consultation room, and nurse station.
Like any project, we love to start with a moodboard for each room - it helps us and the clients visualize all of the pieces and finishes together. Here are a few of our initial boards!
After initial designs were approved, we got to work completing finish selections, floorplans and placement diagrams, finalizing electrical plans, and working with the architect to nail down designs for the ceiling, nurse's station area, cabinets, restroom vanities, decorative trim and molding throughout, and more!
Construction on the office began in September, and wrapped up in early January. Take a scroll through the build out process below!
We worked with some great contractors who were willing to go along with our ideas that were very outside their norm, especially for a commercial project. They might have thought we were crazy when we told them to put wallpaper on the ceiling, were persistent about adding some detail to the cabinetry and using interesting hardware, and painting all of the interior doors - but we think they may have even liked how everything came together ;)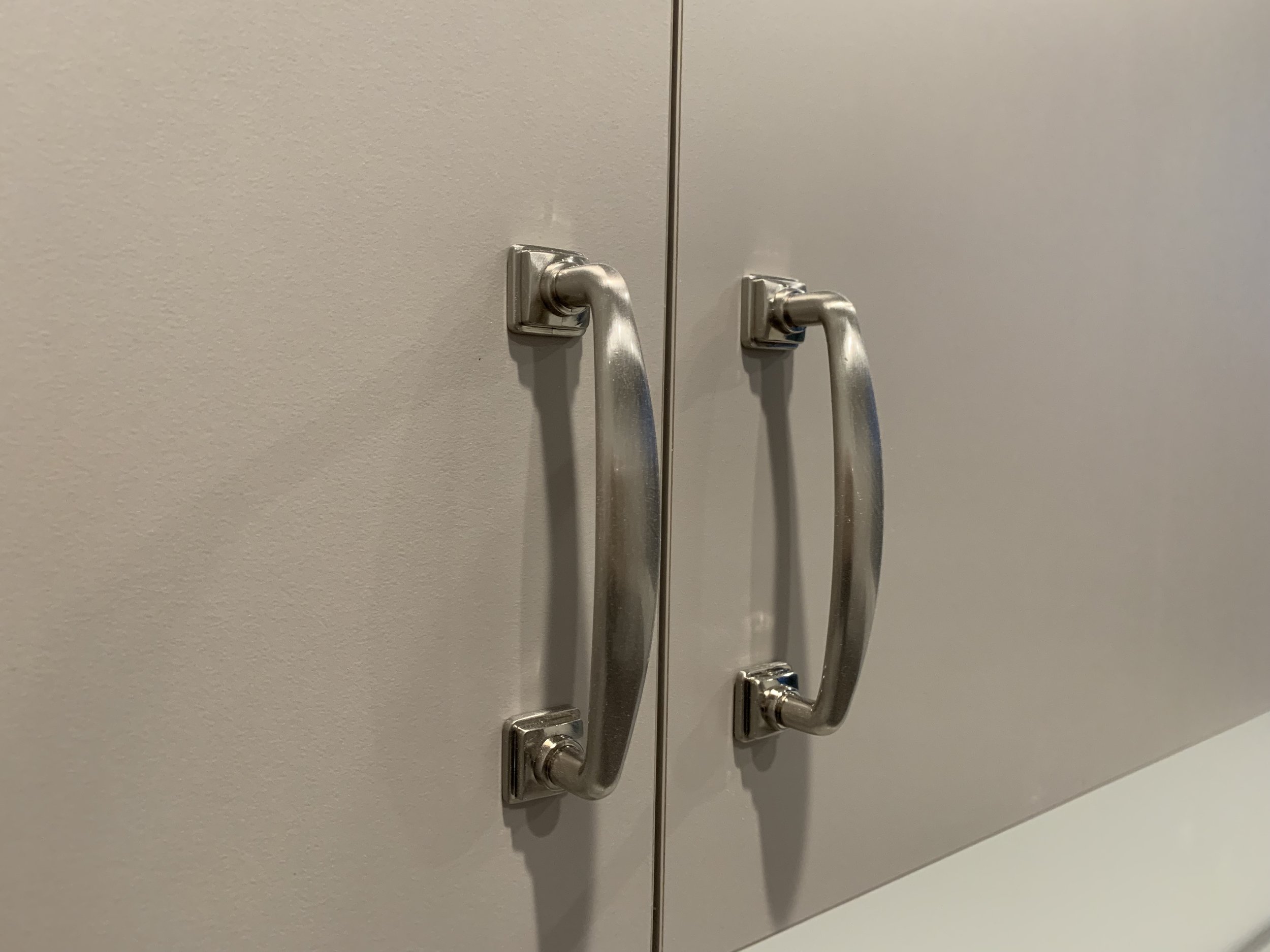 Believe it or not, there was a process behind the design of each of the room signs (shown below). We wanted the small details like the room signs to be interesting, and love the finished result! Instead of the standard numerical rooms, each room is named after a major cross street in Southlake, TX.
Two of the exam rooms are shown below, and with 8 patient rooms in total, our goal was for each room to have it's own personality! We accomplished that by changing the wall colors, cabinetry/countertop colors, artwork, and furniture slightly in each room. One of our favorite things about this office space (even when it was just a slab!) were these windows lining the perimeter of the office. The exam rooms get the best light in the place!
The office's nurse station is situated in the middle of the hallway, and becomes a focal point for the back of office. We wanted a clean, open, non-cluttered feel for this area, but still something that was a bit of a statement! The quartzite countertops, silver pendant lights, and molded front paneling did the trick.
And last but not least…maybe our favorite spot in the office! In a high end dermatology practice, we felt like there should be a space where the doctor or aesthetician could sit down with patients privately to discuss medical and cosmetic services offered and allow them to ask questions, look through before and after photos, and understand the "Prism Experience." The space doubles as a meeting space for product reps and other vendors, and we called it the consultation room.
Early in the design process we came across this paint color, Sherwin Williams Oyster Bay. Because of Prism's branding and logo colors, we knew we'd use it somewhere in the office - and here's where it landed! The wallpaper we used in the tray ceilings throughout the hallways was used here behind the built in shelving. And finally…this painting! Even we were surprised just how much we loved it in the room after it went up!
Thanks for following along through the design process of the office! If you missed Part 1, click here, and if you're interesting in learning more about our services, give us a call or go through our New Client Questionnaire. Don't forget, we're offering free consultations through March 31!